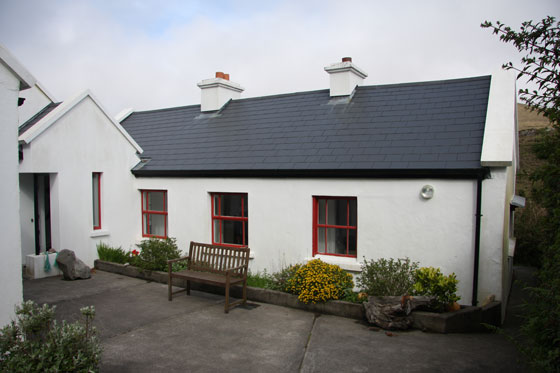 The Residency
To Apply for the residency: HERE
1. Background.
– The Heinrich Böll cottage in Dugort Achill has been in use as a residency for artists and writers since 1992. The residency has been organised and run by a local voluntary committee, in conjunction with Mayo Co. Council, The Arts Council of Ireland, The Heinrich Böll Foundation, Germany, and the family of Heinrich Böll.
2. Aims of Residency.
The Residency at the Böll Cottage is designed to achieve the following;
– To provide a secluded and private environment for writers and Artists to do their work, a space where artists can be away from their usual environment and routine, in a place conducive to their needs, and to producing high quality work.
– To provide access for the resident island community to high quality, professional standard, cultural and artistic events. This is achieved through readings and exhibitions – visits to local schools etc, organised in a manner which does not distract the resident artist from their main creative work, while at the cottage.
– To build on the existing tradition and reputation of Achill island as an area of interest to writers and artists. The residency attracts interest from professional artists from an international base – hence focusing on the island as an area of cultural and artistic interest.
– To have an appropriate memorial to Heinrich Böll on Achill island. The residency, by providing support for artists, is a living, growing and creative way to celebrate the work and achievement of Nobel Prize winner Heinrich Böll. This project, in memory of Heinrich Böll, makes available a real tangible support structure for creative artists, and is therefore a most appropriate memorial to this important writer.
3. Achill.
An area of interest for writers and artists.
– Achill is an area of scenic beauty and has a reputation within the international artistic community as an area of interest going back 100 years. The Heinrich Böll cottage programme has been successful in maintaining and expanding this reputation, which in turn through published works, filters into the wider community.
4. Community Access to artistic programming.
– The guest writers and artists may also visit schools or community organisations, or give public readings from their work during their stay at the cottage. In this way the residency provides access for the local community to high quality Artistic events, achieving one of the main aims of the Arts Council of Ireland in providing wide access to high quality arts and culture.
5. Cultural and Tourist attraction.
– Heinrich Böll was awarded the Nobel Prize for Literature in 1972 and remains an extremely important cultural figure in Germany and throughout Europe, and it is very important that Ireland and the Achill community are proactive in ensuring that his memory is kept alive on the Island and in the Country. Many interested people visit the county to trace the landscape and environment where Heinrich Böll lived and worked, and which he described in detail in his book 'An Irish Diary' (1957).
6. Funding of residency to date.
– The residency programme is currently funded through revenue grants on an annual basis from Mayo Co Council and The Arts Council of Ireland. This funding can cover costs of maintaining artists during their stay at the cottage.
7. Agreement to purchase the cottage.
– The cottage was provided free of charge by the Böll family from 1992 – 2000. In 2003 the Achill Heinrich Böll Association purchased the cottage to ensure its continued use as a artists residency, and to guarantee the continued benefits to the Achill community, and to the country. This was achieved with funding from The Minister for Arts, support funding from Mayo Co Council, and through fundraising by the committee.
8. Organising committee and local support.
– There is broad recognition of the value and benefit to the community of the Böll cottage residency within the local community. There is wide community support in the parish and county for this project.